Are you keen on details and good at dealing with and understanding people's initial characters? Do you have excellent communication skills? Working as a talent acquisition specialist might be a good fit for you.
What does an expert in talent acquisition do, and what are its responsibilities? Talent acquisition refers to finding and hiring qualified workers to meet your organisation's needs. To fill unfilled jobs within a company, the talent acquisition team is responsible for finding, obtaining, evaluating, and employing individuals. The pillars of talent acquisition specialists are employer branding, future resource planning, workforce diversification, and building a strong candidate pipeline.
What Does a Talent Acquisition Specialist Do?
Talent acquisition specialists conduct hiring procedures for businesses and institutions. They are often referred to as HR recruiters. They must contact hiring managers on recruiting requirements, create selection criteria, and find qualified individuals using several methods.
A talent acquisition specialist is tasked with identifying, luring, and interviewing candidates for employment to determine the best fit for a company's long-term objectives. They consider that people are crucial to this process and will be essential for success in the future.
Additionally, they can be expected to go to employment fairs. A talent acquisition specialist is chiefly responsible for the following:
Identifying staffing needs in cooperation with hiring managers.
Establishing the selection standards.
Identifying possible individuals using online resources (e.g., social platforms and professional networks.)
Creating a plan for the interview and selection processes, such as screening phone calls, tests, and in-person interviews.
Utilising our applicant tracking system to evaluate candidate information, including resumes and contact information.
Creating job descriptions and interview questions that consider the requirements of each role.
Leading initiatives for employer branding.
Participating in and organising job fairs and recruitment events.
Estimating departmental employment needs for the upcoming quarter and year.
Cultivating enduring connections with previous applicants and potential candidates
Is Talent Acquisition the Same as HR?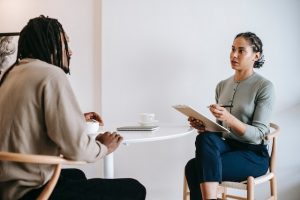 A talent acquisition partner is different from human resources. A few examples of the responsibilities of a human resource are finding the short-term capabilities their firms require, managing salary and benefits, supervising conflict resolution, and maintaining compliance with personnel and safety requirements. On the other hand, talent acquisition takes on a more strategic role and develops staffing plans to guarantee resources in the future.
Sometimes, a company's human resources division houses the talent acquisition team. In some organisations, talent acquisition specialists function independently while coordinating with HR. Influential talent acquisition experts are proficient in employment branding strategies, candidate assessment, compliance and recruiting standards, and corporate hiring activities. These are just a few of the skill sets they possess.
Recruiter vs Talent Acquisition Specialist: What Is the Difference?
The purpose of recruitment is to fill open positions. Talent acquisition is a continuous plan for your business to locate experts, leaders, or potential executives. Finding suitable individuals for jobs that require a very specialised skill set and long-term human resource planning are typically the main foci of talent acquisition.
Trust ArcTree for Talent Recruitment in Brisbane
Companies must coordinate their planning and talent acquisition strategies across departments to discover, target, and attract the best candidates for a given post and hire the finest personnel.
The creation of employer branding and dissemination of that brand to potential candidates fall within the purview of talent acquisition teams. Candidates should easily understand your brand's culture, reputation, significant competitive advantages, and offerings from your organisation.
Managing the applicant's life cycle, from the initial application to the last job offer, is another responsibility of the talent acquisition specialist. Practical cooperation, transparent communication, and accurate alignment with the hiring manager are essential.
If you are looking for a recruitment agency in Brisbane that can find the best people for your executive position, you are at the right place. ArcTree provides trusted and quality-proven talent acquisition specialist services. We can help you with your recruitment needs, and you can guarantee that we can help you choose the best candidate for the empty positions.
If you are interested in our services and willing to make us your talent acquisition partner, do not hesitate to call us at 0435 838 847 or email us at alan@arctree.com.au.